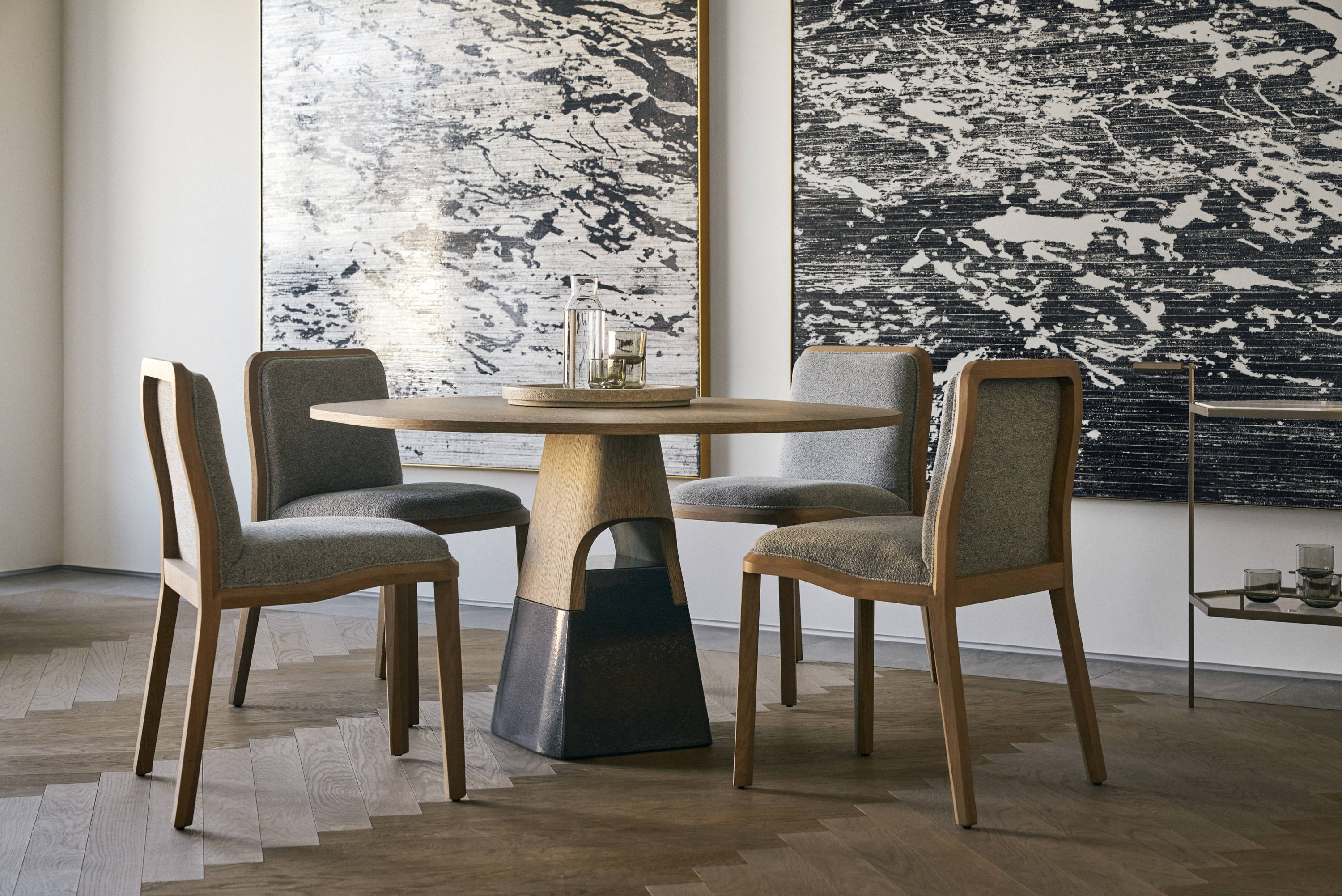 ISA dining table, BAK dining chairs
Normally, Christophe Delcourt would debut a new collection at an international design event like Salone del Mobile, making a splash amongst crowds of design lovers drawn from all over the world. That was the plan for the Give Me Shelter collection, the name referencing how the furniture designs almost resemble architectural structures. In an ironic twist of fate, the collection was unexpectantly released during a time where people were forced to shelter in place.
And so Delcourt and his team pivoted to video as an alternate method of allowing an intimate experience with the collection, granting his clientele and the design community the opportunity to preview the furniture from the comfort of their own shelters. Lingering close-ups of the various new furniture pieces emphasize the design dynamic that Delcourt is known for, in which texture and surface finish create a subtle yet sumptuous compliment to the uniquely organic shapes.
Give Me Shelter by Delcourt Collection
Explore more from the collection- with key pieces from Give Me Shelter styled by AVENUE ROAD.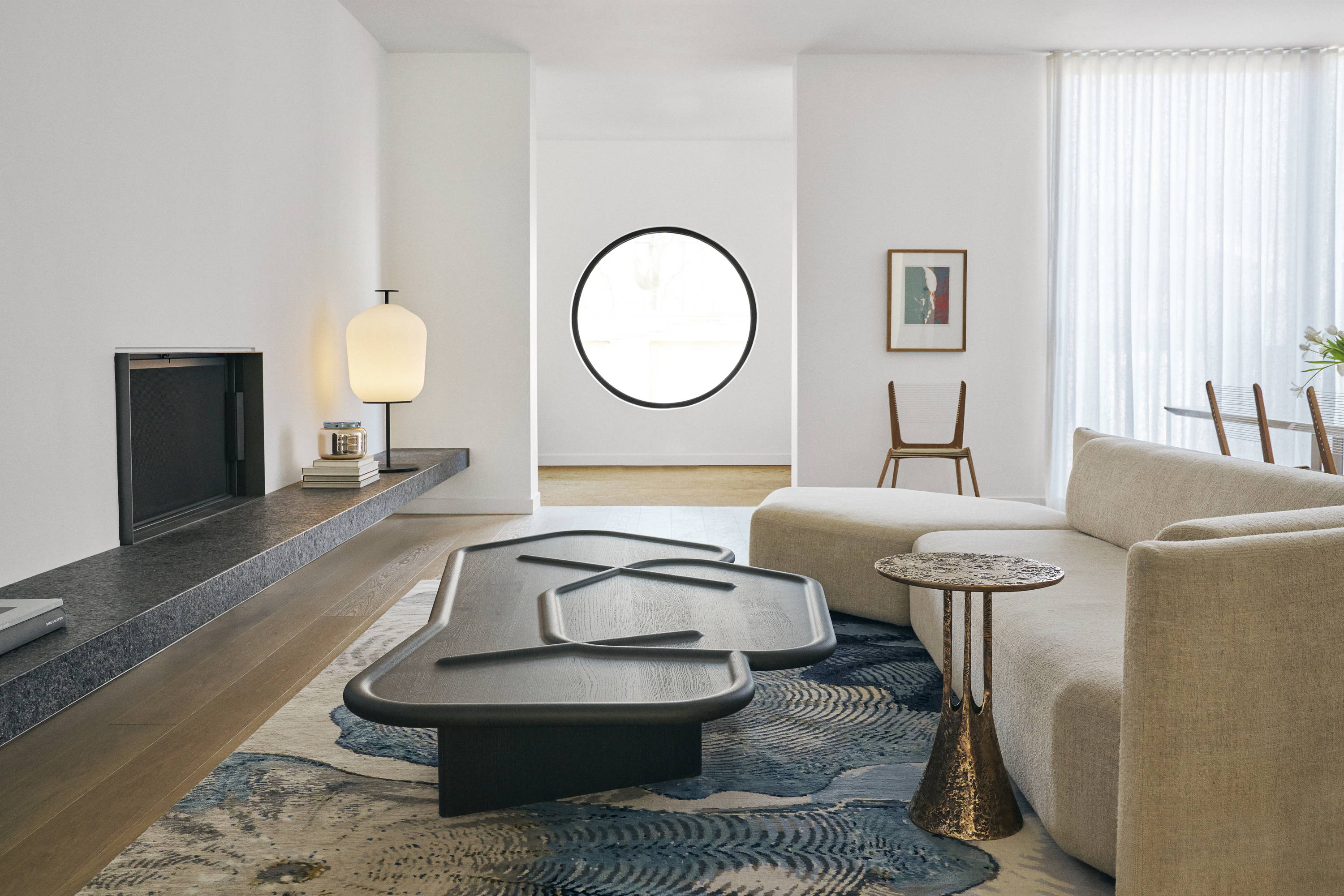 IBO coffee table, TEE side table
The IBO coffee table was inspired by Japanese design, hence it's name. Built in solid elm in various colours, it's oil finish was selected to maintain the most natural feeling of the wood, a feature found throughout the collection. A raised design on the tabletop follows the placement and shape of the legs and appears as if the legs below are pushing up and through the surface- a play on our perception of how we know wood to behave.
The TEE side table is created in the fashion of a traditional bronze sculpture in which bronze is cast via a mold, with a unique crosshatch surface texture. Warmer than a typical bronze, TEE can confidently provides sculptural elegance to any space.
In this living space TEE and IBO are placed in the company of a Delcourt classic- the modular and geometric EKO sofa. A limited-edition rug designed by artist Dale Chihuly grounds the setting with an unexpected and energizing pop of blue. Mood lighting is provided by the soft glow of the Plissee lamp, its hand-blown glass shade resembling an artfully pleated textile. This material illusion, paired with it's low profile are reminiscent of Japanese paper lamps, making it a satisfying pairing with the IBO coffee table.
Nomadic and transversal, the TIN side table is for many different rooms. Consisting of a wooden top and stone bottom, TIN's construction requires the most precise assembly work. The stone base is hollow, allowing you to easily move the table and even store items within. Available in 3 finishes that are customizable.
In a pared back corner vignette, TIN's curves are appropriately paired with the LEK sofa. Also by Delcourt Collection, the sofa is designed with a rounded, sublimely sloped backrest to support and uplift for a lush experience. Delcourt's Hardin rug, made of 100% pure hand tufted wool, provides elevated warmth that participates in the material texture dynamic. A graphic print by Maximilian Weishaupt contrasts the space with saturated blue and sharp angles.
ISA dining table, BAK dining chairs
The ISA table combines luxe natural materials- a textured lava stone with oiled wood. Again, it was important to Delcourt to maintain a very natural finish to the wood. The first piece designed in the collection, ISA's design is what inspired the "Give Me Shelter" name. A longer, oval version of ISA is also available with an extended base.
The BAK dining chair is Delcourt's "little black dress"- easy, practical, and timelessly chic. Designed with comfort in mind, the lightweight chair is thinner at the front of the seat and thicker at the back, a unique design detail that allows for a more cushioned seat. This curve is also reflected in the back rest, following the curves of the body.
This dining set is all about the beauty of material. Elegantly wafer-thin, yet resilient mouth-blown crystal drinking glasses demonstrate sublime delicacy, thanks to Lobmeyr's 200 years as premiere glassmakers.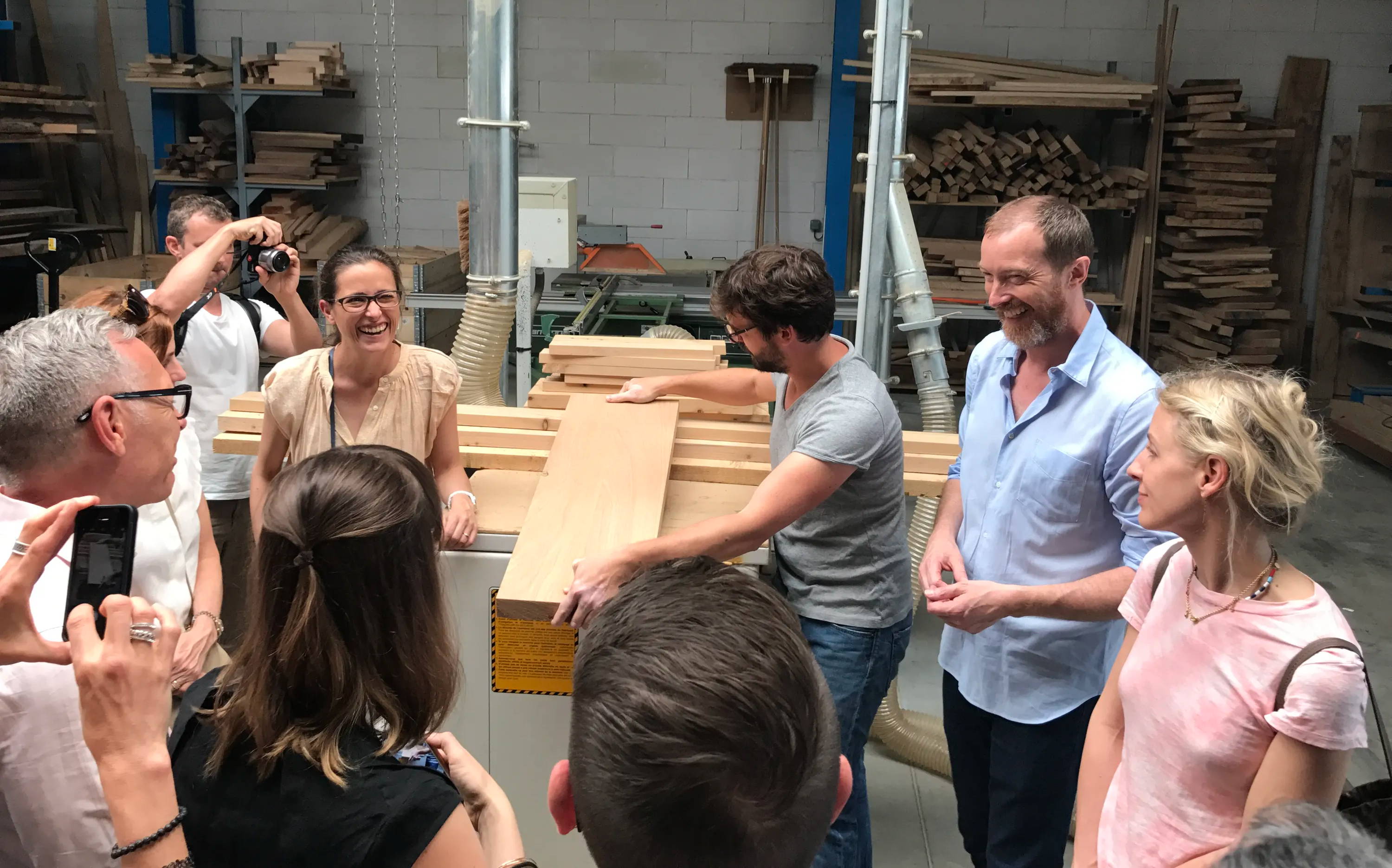 AVENUE ROAD visits the Delcourt Collection studio in Paris, 2017
When it comes to Delcourt Collection, quality is everything, a philosophy following the brand into Give Me Shelter. Traditional French craftsmanship is the foundation of his trade: "In France, we have a strong manufacturing tradition. And manual workers are culturally very important. We call ourselves le patrimoine—members of a heritage that is passed down from generation to generation. Today we realize this craft is precious and we must fight to conserve it," says Delcourt. What's more, his clients have come to expect it. You'll never find a mass-produced industrial object chez Delcourt. "I find it very pretentious to say, 'I will make furniture for millions". What you will find instead is an artful collection of furniture that subtly blends perfectionism with tangible sensuality.
To learn more about AVENUE ROAD'S offerings, contact arsales@avenue-road.com.