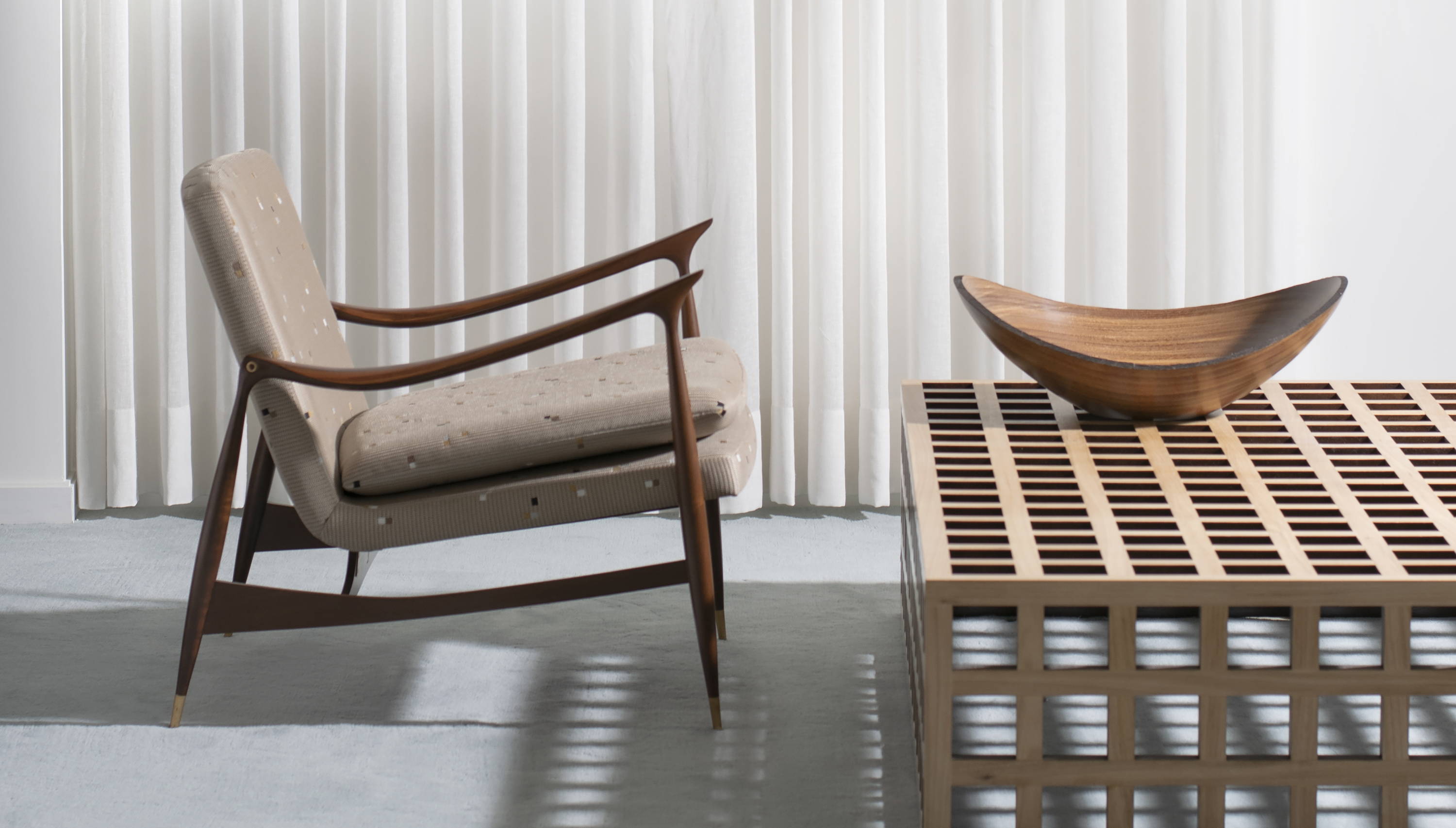 Dinamarquesa chair by Jorge Zalszupin reissued for Etel, Cubo Libre coffee table by Claudia Moreira Salles for Etel, Marina Bowl by Etel Carmona for Etel.
An Icon of Brazilian modern design has passed away at age 98.
Jorge Zalszupin embraced Brazil, his adopted home, which had a lifelong influence on the development of his creative, sensual, and uniquely modern brand of furniture and architecture. Zalszupin developed a profound appreciation for the country's natural resources—namely its beautiful and rare native woods— with which he also combined with other materials such as marble, steel and fiberglass, ideas that have become common place in modern Brazilian furniture design due in part to his influence and eye for innovation.
Zalszupin's iconic designs have been re-issued by Etel, a family owned business founded in 1993 by Etel Carmona, who worked directly with Jorge to reissue a range of his pieces according to his exacting specifications.
Born Jerzy Zalszupin, in Warsaw, Poland, to Jewish parents in 1922, he was forced to escape Nazi occupation in his adolescence by relocating to Bucharest, Romania. It was there he studied architecture, graduating just as WWII came to an end in 1944.
He spent some time inspecting buildings suffering earthquake damage before he moved to France in hopes to launch his career. Not long after, Zalszupin became aware of the growing design industry on Brazil— the country was rapidly modernizing in both pollical and cultural realms, born out of a new community of European refugees. In 1949 he travelled to Brazil with a motorcycle, a special edition of French magazine "L'Architecture d'Aujourd'hui" highlighting Brazilian architecture, and a return ticket to France. Using the magazine as an itinerary, 29-year old Zalszupin spent days motorcycling to Brazil's most magnificent structures, right in the middle of the country's colourful Carnival celebrations.
As he was preparing to take his return ticket home, he received an offer to works as an assistant architect for a firm in Sao Paulo. With no knowledge of the Portuguese language, he accepted, inspired by Oscar Niemeyer and other Brazilian modernists.
Brazil became Zalszupin's life-long home— within his first decade of living in Rio de Janeiro he had a family, became a citizen, and launched his architecture firm, Escritório Téchnico Prumo. He found himself collaborating with Oscar Niemeyer, the designer that so inspired him.
Zalszupin became aware that there was a need from clients of his architecture firm for furniture to complement the modern homes he designed for them. A ban on imported goods in Brazil meant there was a lack of options. He began working with a small team of skilled craftsmen and launched a new design studio, l'Atelier, a reference to his brief home of France. l'Atelier is now considered to be a benchmark of Brazilian modernism.
Dinamarquesa chairs by Jorge Zaszupin, reissued for Etel, featured in a project by Mazen Studio.
The Dinamarquesa chair was his first piece in 1959 and has since been considered an icon of Brazilian design. Nicknamed the "Danish Chair", it was Zalszupin's nod to 1940's Danish design icons Hans Wegner and Finn Juhl. Featuring slim and tapered curves, it also recalls Niemeyer's Alvorada Palace. Dinamarquesa exemplifies his sensibility to mix European influences with Brazils unique aesthetic; in this case Scandinavian restraint meets Brazilian sensuality.
Lissa Carmona Tozzi, CEO of Etel, calls him "a legend of Brazilian modernism, who created timeless furniture designs of exceptional quality". She and her mother, designer Etel Carmona, worked with Zalszupin to reissue a range of his iconic pieces. Abiding to Zalszupin visionary design practices, Etel ensures their original integrity by adhering to strict restrictions on the rare Brazilian woods.
In memory of Jorge Zalszupin
June 1, 1922 - August 17, 2020