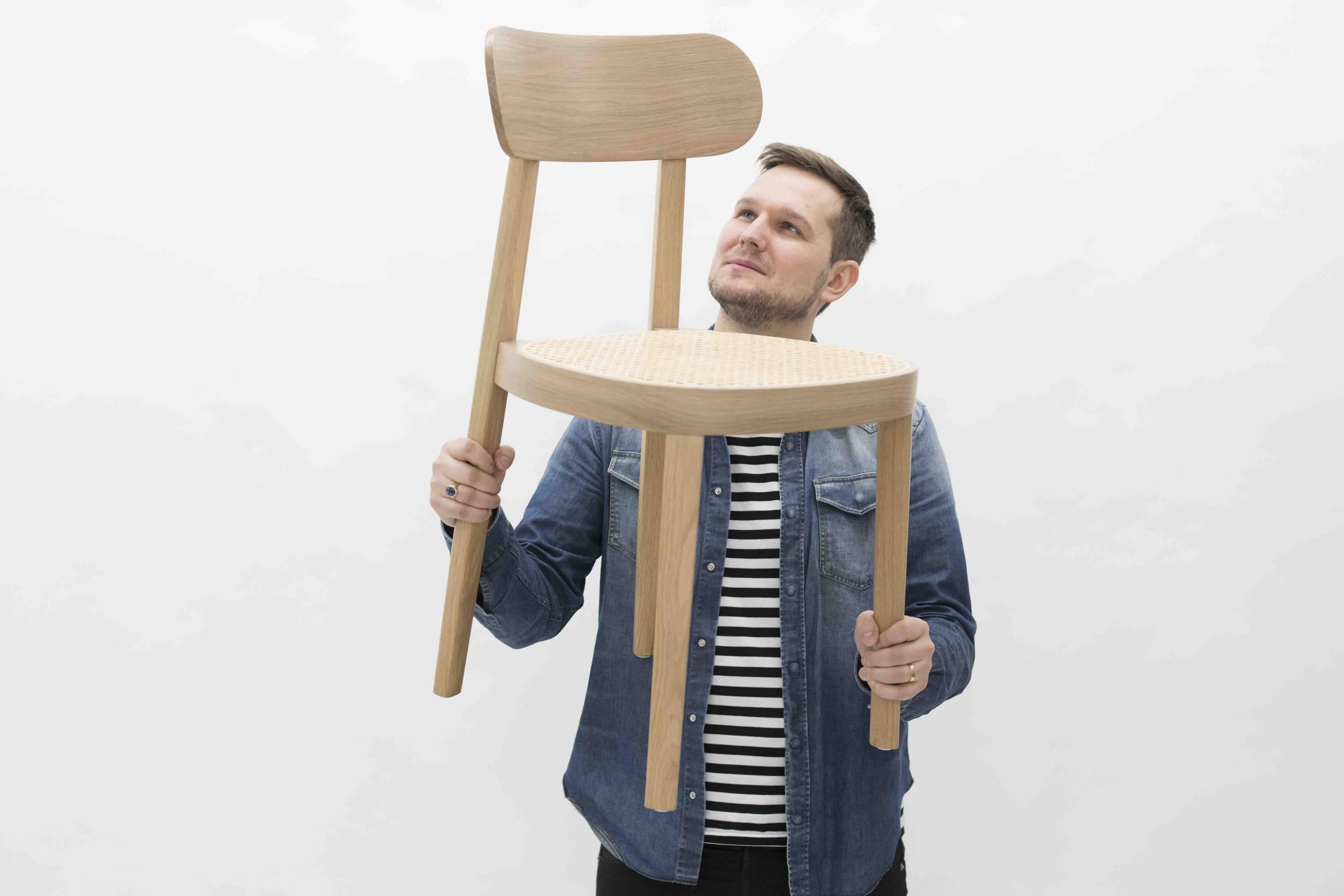 Sebastian Herkner is globally recognized for his tactful ability to push the boundaries of product design, with a sensitivity to materiality that extends beyond his years. He possesses a unique ability to merge cultural contexts with a progressive approach that also embraces traditional craftsmanship which ultimately highlights details that would normally go unnoticed.
In rounding up several of his designs released in the past year, it is clear that Herkner is a truly prolific designer and likely one of the most active of our time, spreading his design ethos to a diverse array of mediums and industries.
Since opening his studio in 2006 in Offenbach, Germany, an industrial city turned tech hub on the outskirts of Frankfurt, Herkener has received significant international recognition, including the 2011 German Design Award for Best Newcomer and the Red Dot Design Award for his, now iconic, Bell table. Manufactured by ClassiCon and made of tinted, hand-blown glass that elegantly morphs into a solid brass top, the two materials appear to merge seamlessly and without effort. This jewel of a table initially caught AVENUE ROAD founder Stephan Weishaupt's attention and was the beginning of a decade-long relationship with Avenue Road: "The Bell table was the starting point," according to Weishaupt.
The Bell table family has expanded in 2020 to include a dining table- a super-sized, elegant sibling to the coffee and side tables. Perfect for an artsy dining room or a dignified grand foyer, the larger dimensions only seem to emphasize the material play of the original bell design.
Available in coffee or side table dimensions, Rosaline, a new and limited-edition colourway, offers a fresh perspective with its subtle yet playful rosy hue.
Herkner continues to play with perception of material with the release of the new Plissee floor lamp, also for ClassiCon. The lampshade, appearing as a weightless balloon of light, reminiscent of an artfully pleated textile, is actually hand-blown glass. Elaborately produced and featuring a dimmable light, Plissee unites traditional craftsmanship with industrial components in true Herkner fashion.
Based on the coffee house culture which brought Michael Thonet his first successes after opening his workshop in 1819, Thonet chairs have been found wherever people gather- and have received a modern update. The 118 chair, designed by Herkner for the historical furniture manufacturer, considers the company's heritage-- the bent wood frame and hand crafted seat covered with wicker cane references the original archetype of a Thonet chair.
Available in dining or counter height, Herkner has added sophisticated details. The shape of the chair's legs are rounded on the back, and slight edges on the front create a certain break, which alludes to the horseshoe shape of the seat.
High-gloss finishes are available in addition to stained beech in a variety of colours. Whether you prefer a deep jewel tone, pastel, or classic black, white, or natural beech, 118 makes for a versatile option.
Alwa tables, exclusive to AVENUE ROAD
Herkner's Alwa tables series for Pulpo is comprised of three side table styles, I, II, and III- each also available in "Big", a larger size option. Initially released in 2017, the Alwa's have been revered for their beautiful glasswork.
"We wanted to create glass in a new way, something solid and unique," Herkner explains. "We are fascinated by casted glass- compared to mouth blown glass elements, which have a specific wall thickness. Alwa tables have a tabletop made of 50 mm casted glass. The liquid glass is left in a special metal mold to solidify for several days. The air bubbles in the glass give each tabletop a unique character. The appearance mimics the aesthetic of water."
We are also is proud to announce the addition of two new Alwa colourways, exclusive to AVENUE ROAD. A deep, sultry Amethyst glass colour is now available for Alwa I and II. A hint of a jewel tone, Amethyst offers a moody accent to a sophisticated living room. An opaque white glass is also available for the all-glass Alwa II. The absence of transparency creates a whole new look for the liquid-looking, or in this case, milk-like glass.
Herkner's Oda lamp for Pulpo also released 2017- was directly inspired by the famous Dusseldorf School of Photography's highly influential photos of water towers and other industrial structures, which were admired for their symmetry and lines.
"Oda is a reservoir of light," says Herkner. "Oda is a huge floor lamp for the living room - next to your sofa or armchair. My aim was to create a volume full with light. The design is inspired by the amazing pictures of water towers shot by German photographers Bernd and Hilla Becher. A simple and elegant metal structure balancing a mouthblown tinted glass globe."
Herkner and Pulpo have recently made available a new colour and size for Oda. Aptly referred to as "In-Between", the new size fills the previous gap between Oda big and medium. A blue-toned "Steel Gray" colourway offers a modern contrast to the popular Smoky Grey finish, which is more of a warmer brown.
Having already experimented with casting glass in developing Alwa, Herkner applied his knowledge of the process for the newly-released Pina tables, once again with Pulpo.
"Our distinctively tall, skinny side table series Pina is inspired by the abstract turns and twists of the famous Pina Bausch dance theatre, says Herkner. "The basic figurine with base, rod and top shines in different combinations of aqua blue, transparent, green, corn yellow and light grey."
Contact arsales@avenue-road.com to learn more about available Sebastian Herkner-designed options.