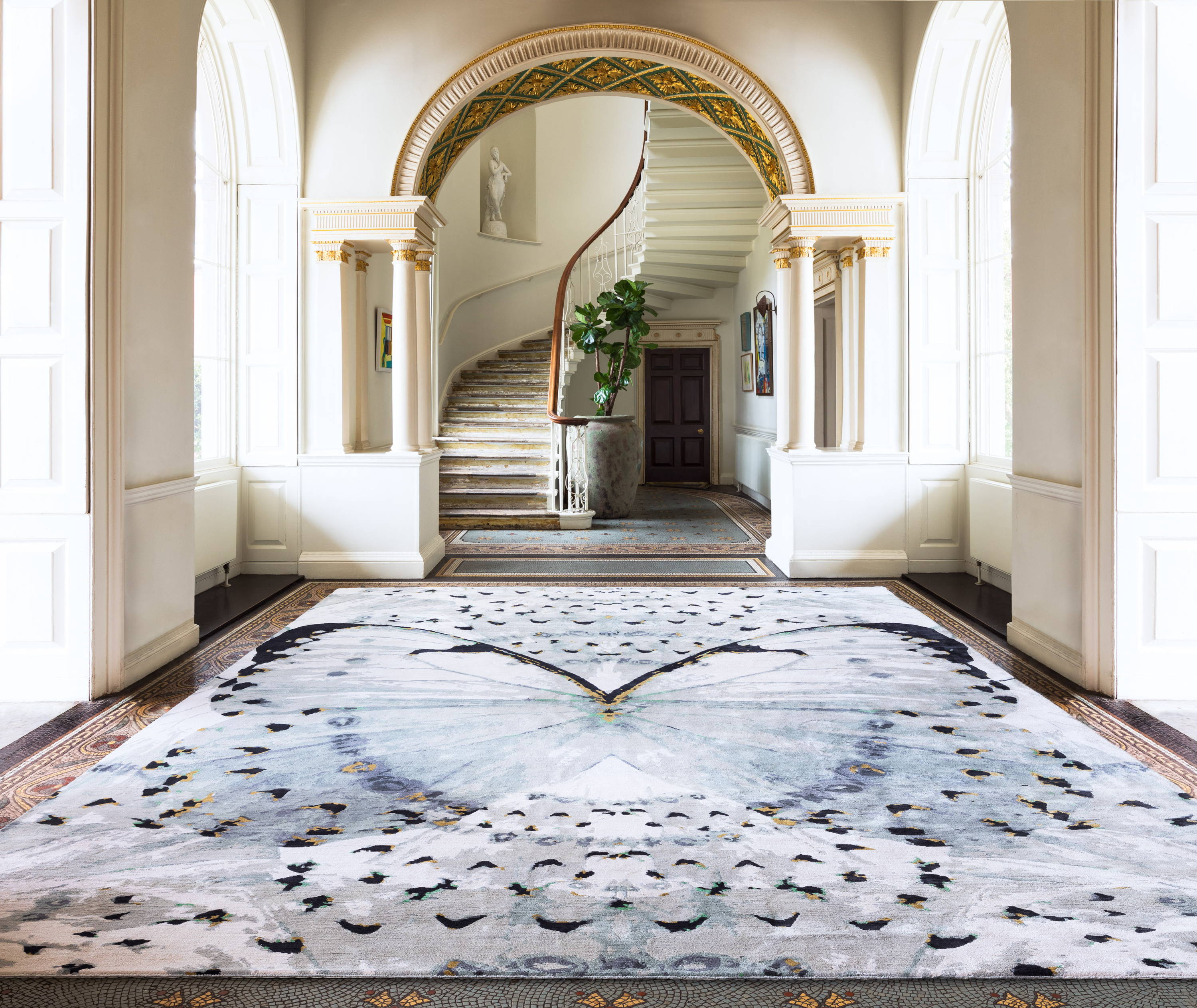 Creativity and quality characterize everything that The Rug Company does. As champions of modern design, The Rug Company is constantly pushing the boundaries of rug design to achieve an originality that is both beautiful and functional. Their notoriety has allowed them the opportunity to collaborate with some of the world's most inspired and respected designers, harnessing their creative brilliance and translating their unique vision into beautiful rugs. In a union of artisanal technique and exquisite fabrication, the esteemed fashion house Alexander McQueen has teamed up with The Rug Company once again to collaborate on five new exclusive rug designs, this time exploring the magical transformation of nature through five new rug designs in a collection entitled 'Metamorphosis'.
Lee McQueen founded his own Alexander McQueen label in 1992 and has since become a legendary name, both inside the fashion industry and out. Famed for his storytelling and unparalleled creativity, McQueen was iconic for his innovation and ground-breaking design juxtaposed with a respect for traditional craftsmanship, having had apprenticed at Savile Row as a youth. Nature was a key reference for Lee McQueen, with designs evoking the life cycle of an eventual rotted flower, or the ornamental markings of a wild animal skin. "I have always loved the mechanics of nature and to a greater or lesser extent my work is always informed by that," he once said.
After the tragic passing of Lee McQueen in 2010, Sarah Burton, McQueen's right-hand woman of 14 years, quietly took up her mentor's mantle and has been leading the fashion house since, herself becoming a household name after designing Kate Middleton's wedding dress. Her Autumn/Winter 2018 collection found her fixated on the remarkable patterning of various butterflies Glasswings, Painted Ladies, Pink Morphos, and Tiger Wings, as well as Scarabs and Goliath beetles, a theme touched on by several of Lee McQueen's well-known designs.
Crown Blossom, Painted Lady
The McQueen philosophy of mixing avant-garde, story-telling design with fine construction is preserved in the Metamorphosis Rug Collection for The Rug Company. With an understanding of the unique heritage and significance of traditional rug artisanship, the weavers continue to craft rugs entirely by hand, using the very same techniques their ancestors did. The raw materials are naturally luxurious and are handled with such reverence that none of their extraordinary properties are lost during the production process.
This is not the first time that The Rug Company has collaborated with a pioneer of modern British fashion, notable Designer Collections also include rugs by Vivienne Westwood and Paul Smith.
Alexander McQueen Autumn/Winter 2018
As the name suggests, Metamorphosis refers to rebirth and renewal. Each rug is a distinct adaption of a specific look from the brand's collections, inspired in its entirety by the beauty of butterflies, beetles and nature's ability to reinvent itself in ever more magical ways.
Metamorphosis Collection:
This follows the success of a previous collection of seven McQueen rugs inspired by folklore, launched in 2013. The mesmerizing and enchanting patterns delved into themes surrounding pagan tradition and bohemian energy.
More Alexander McQueen for The Rug Company:
Our dedicated team of rug experts are here to consult with you on your unique requirements. Tailor an existing rug with new colours, specific shapes and sizes or use as wall-to-wall carpeting. Patterns can even be up or downscaled.