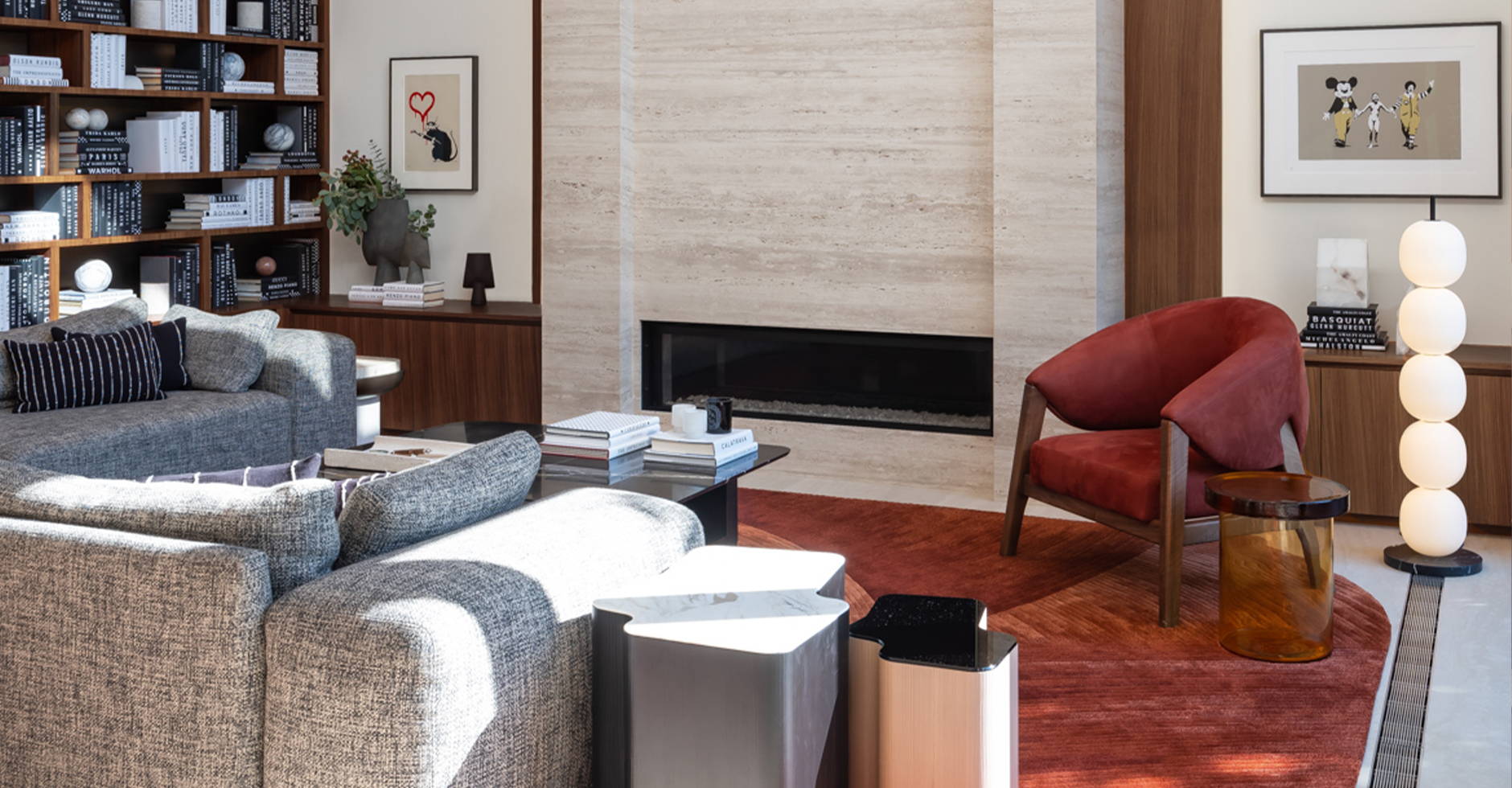 KIN sofa, Apora chair, ALWA III side table, Maikai floor lamp
In 2019, Nivek Remas was brought in to personalize a newly purchased Summerhill residence in Toronto, having been tapped for their emergence as leaders in meaningful and cultivated design with an impact.
In addition to using color to define the spaces, furniture played an important role to balance the architecture of this project - the soft curvatures of the selection of pieces, including Delcourt Collection and Van Rossum, were curated to balance the linear strength of the architecture.
In completion of this spectacular project, we spoke with founders of Nivek Remas, Samer Shaath and Kevin Chan, on their design approach and creative vision.
AR: AVENUE ROAD
NR: Samer Shaath and Kevin Chan, founders of Nivek Remas
AR: Is there a defining quality to your work?
NR: We say our design is very much a reflection of our fashion – It's strong and visceral with a distinct point of view.
AR: What is important about making an impact with design; what sort of reaction do you look for from a client?
NR: For residential design, the impact has to be more subtle and timeless since the user has to live with it 24/7. It still needs to have a strong point of view, but more importantly, it needs to be a true reflection of who the client is. Our goal for any project is just for the client to be so overjoyed with the end result. That's the reaction that we look for. That's what's most important.
AR: What role does a sense of place play in a project like this one?  
NR: For this client, there weren't any requirements to inject a sense of vernacular, where they're from or where they've travelled to. It was more about a sense of the user and how we could create a home that was a reflection of their day-to-day sensibilities and nature. They're the most down to earth people so the home needed to reflect that.
AR: There is an interesting contrast in tone between the formal and informal spaces in this home, how important is the use of colour, saturation, and materiality in creating mood?
NR: That's a very acute observation. Color played a huge part in this home. We actually used an ombre fifty foot long runner to connect the home from front to back - formal to informal. The entry portion of the runner had softer hues of dusty rose which we used in the living and dining room. This was chosen as it was important to showcase the client's coveted art collection so we needed a more neutral palette. The end of the runner had more rich burnt orange colors, which we pulled into the family room area - creating a warmer palette for a place of more intimate gathering.
AR: How has a background designing for hotels and hospitality informed your approach to designing personal, residential spaces?
NR: We've done both luxury hospitality and residential, but hotels are really just another form of residential - the scale is just larger and the experiential duration is shorter. Aspects remain the same: foyers, entertainment areas, dining areas, bedroom, bathroom, kitchen (some long stay suites have kitchens), closet storage, circulation, etc. And when designing a hotel, one still has to understand who the client is - what they like, what they do… So they're actually very similar in a lot of ways.
AR: What qualities must a piece of furniture or an object have to resonate with you?
NR: For residential, we see furniture as the feature and we create the interior architecture as a beautiful backdrop. So the furniture has to be exciting. It has to be different from all other things we've seen out there, whether it's with the design, form, material or combination of any of the three.
AR: Your work spans the globe. What, for you, is the most livable city, and why?
NR: It may be cheesy to say, but we're lucky to live in Toronto, Canada. We're a diverse and open-minded country and a city that has a great health care system and comparably good government. It's rich in culture. Design and architecture has also come a long way in the last decade. The food scene is amazing. And globally, it's fairly central - it's a close flight to New York, Miami, Europe, Mexico, the Caribbean… we only just wish it was closer to Asia.
AR: What place have you been dreaming of visiting first, once the possibility of travel opens up again?
NR: Oh.. there's so many places on the list… the whole of South and East China Sea: Malaysia, Vietnam, Thailand, Cambodia, South Korea… but also Japan again! The last time we went was a few years ago to Tokyo, Kyoto and Osaka. It's an inspiring country; rich in tradition and culture, where people specialize in one thing and spend their life perfecting their craft. There's nowhere else in the world that compares. We can't wait to go back and explore more intimate parts that we didn't get a chance to get to last time.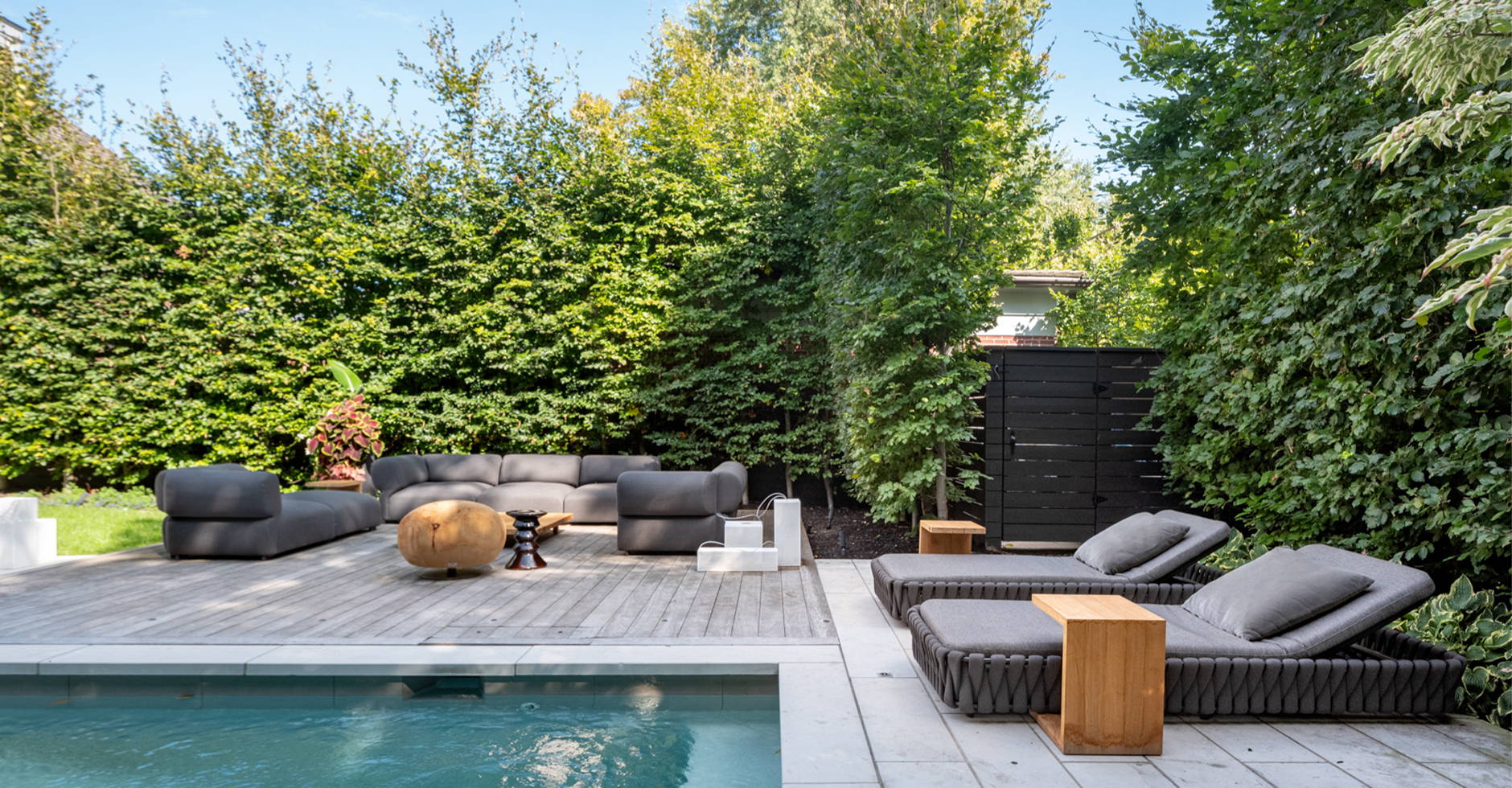 Tosca adjustable lounger, Pure C-Tab
AR: What brings you comfort in your own home?
NR: It's difficult to pinpoint anything in particular that provides comfort for us in our home. It's not the most modern, but it's comfortable spatially with ample daylight throughout the year. There's also comfort in the collection of our furniture, art and accessories that we've collected through the years that makes our home a true representation of us.
Browse Product Selected by Nivek Remas: