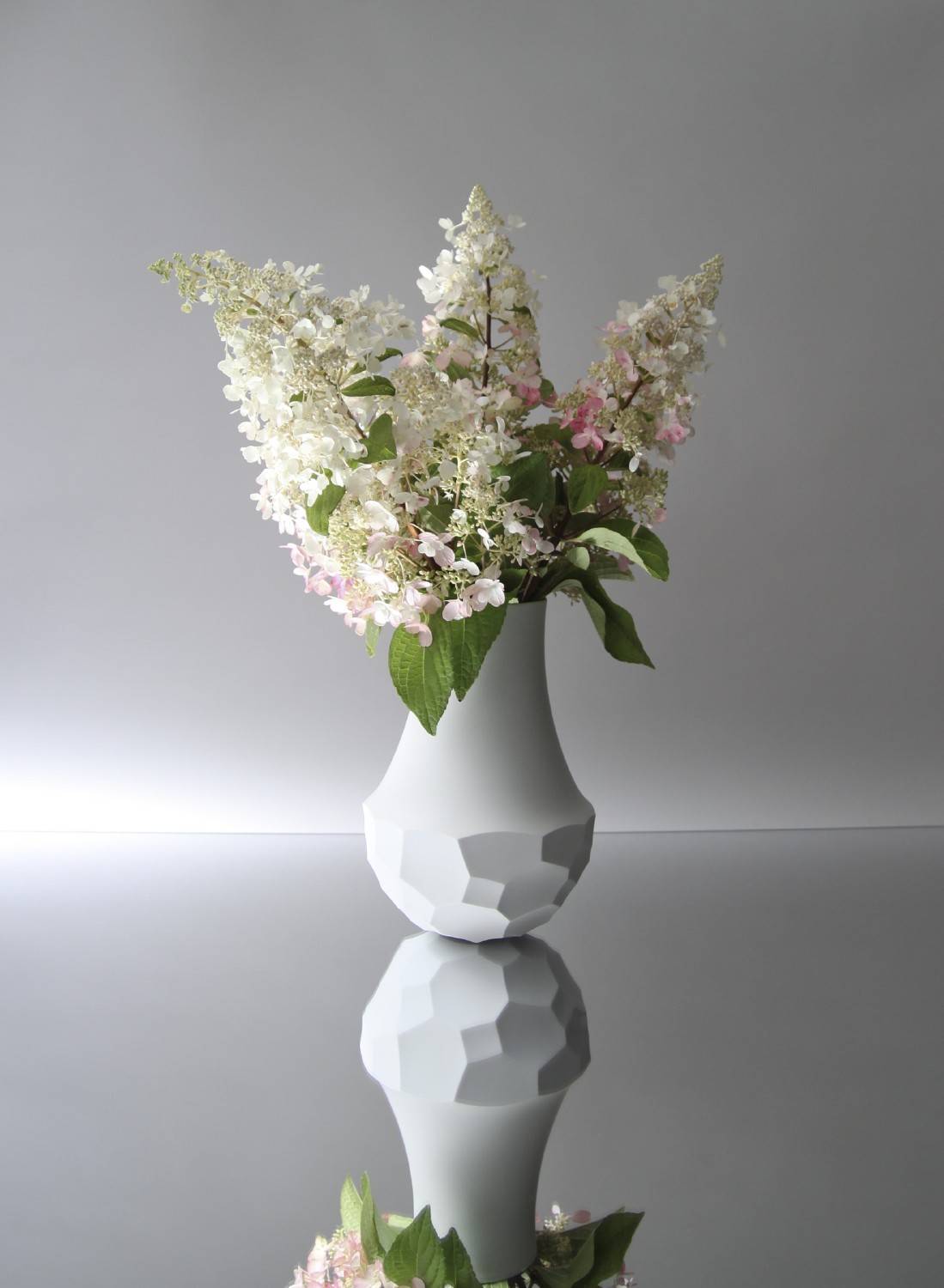 The modern couple has more choices before them than any other in history. Weddings today encompass an unimaginable range of styles and activities, from cutting-edge trends to the most honoured of traditions.
It may surprise the contemporary fiancée to learn that diamond engagement rings only became de rigueur in the 1930s, after advertising campaign featuring the now famous slogan, "diamonds are forever." And the idea of a gift registry—which many couples now choose to forego—was only created in 1924, by a department store. Still, for most of the last century, choosing a dining set was so common and considered so important that "picking out china patterns" has become synonymous with getting married.
Porcelain and crystal are an intrinsic part of getting married, as they last a lifetime and become more meaningful with every passing year: they are inseparable from celebration, and so they become repositories for emotion and shared memory. There are no bigger names in the industry than those steeped in Viennese tradition—those artisans that have been operating for centuries: Nymphenburg for porcelain and Lobmeyr for crystal. Each of these established and award-winning companies has found ways to appeal to the most classical and the most modern of couples, with products that can be used again and again always delivering an extraordinary experience for the everyday.
The couple who wants a dining set to evoke centuries of opulence and tradition need look no further than the Brocade. The series takes as its starting point the classic Cumberland service and endows it with paintings of blossoms, elaborate bouquets, butterflies, and insects, and finishes with a fine gold lace edge. The paintings were originally commissioned from Joseph Zächenberger in 1765, and are still considered to be the most complex flower pattern in the world. The craftspeople at Nymphenburg use traditional methods to paint the porcelain by hand, and celebrate their technique with the filigree detail of the gold. This pattern is also produced with the classical lace edge in pure platinum, which requires incredible sensitivity and precision: once the platinum ornaments are applied, the individual pieces are fired and polished with agate and burnishing stones.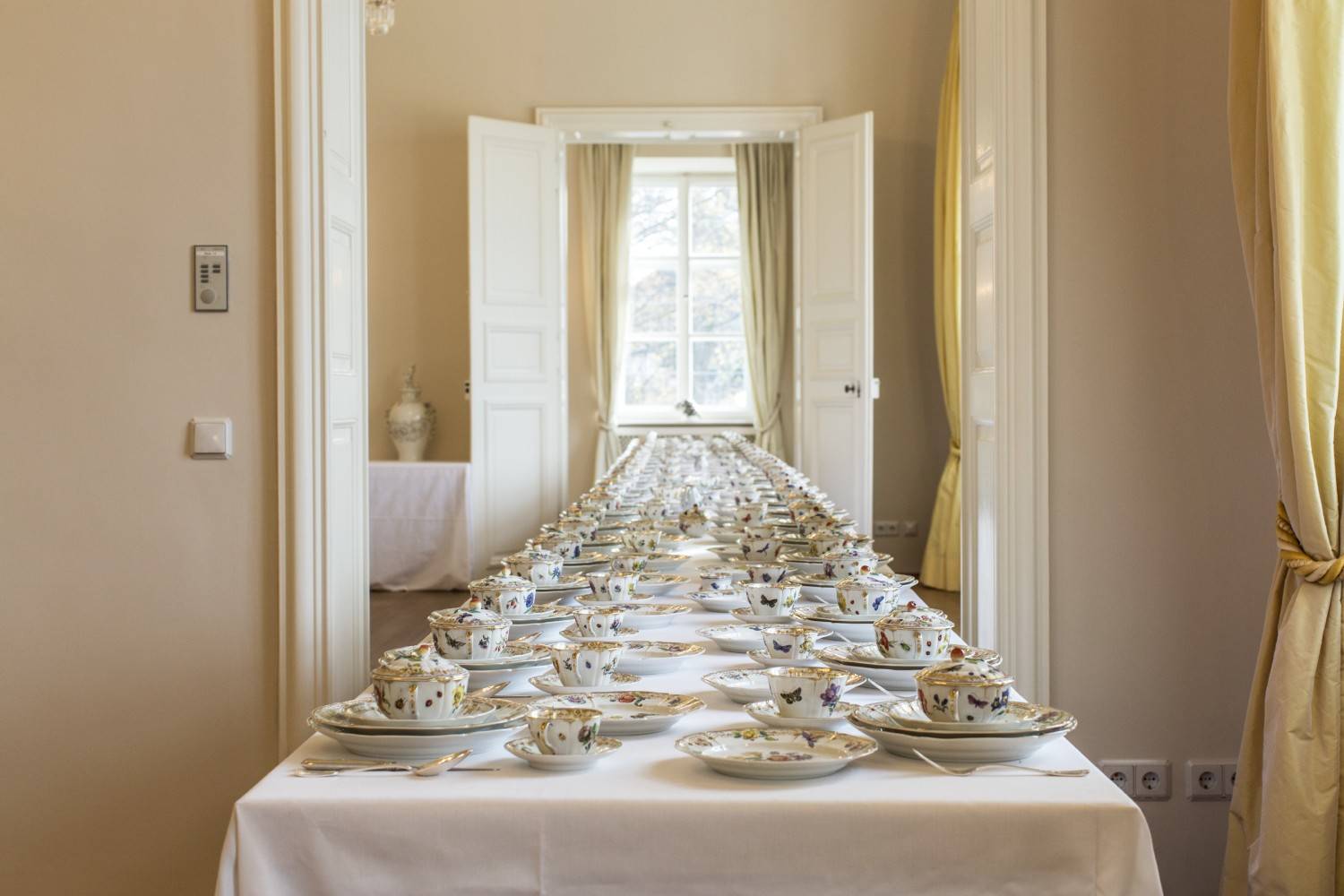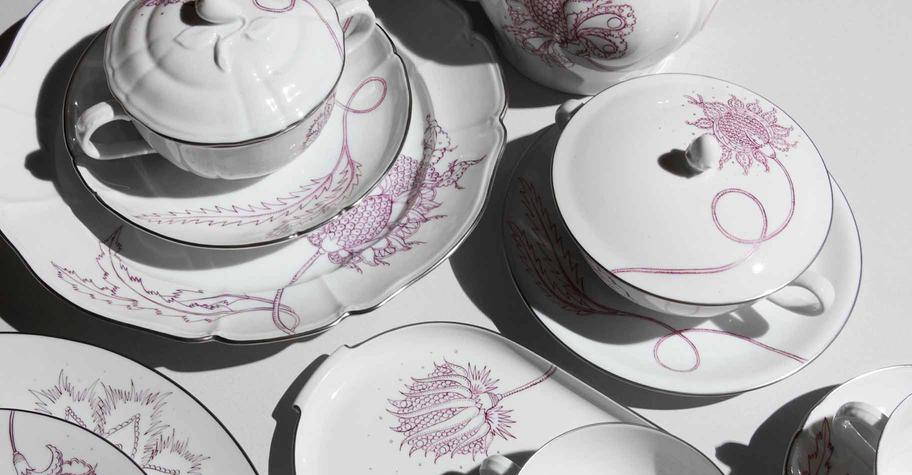 Flowers of Life, Nymphenburg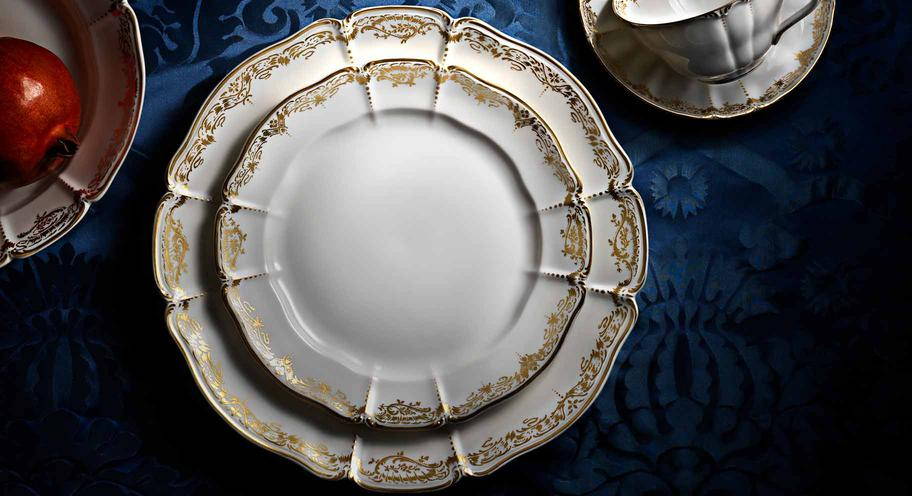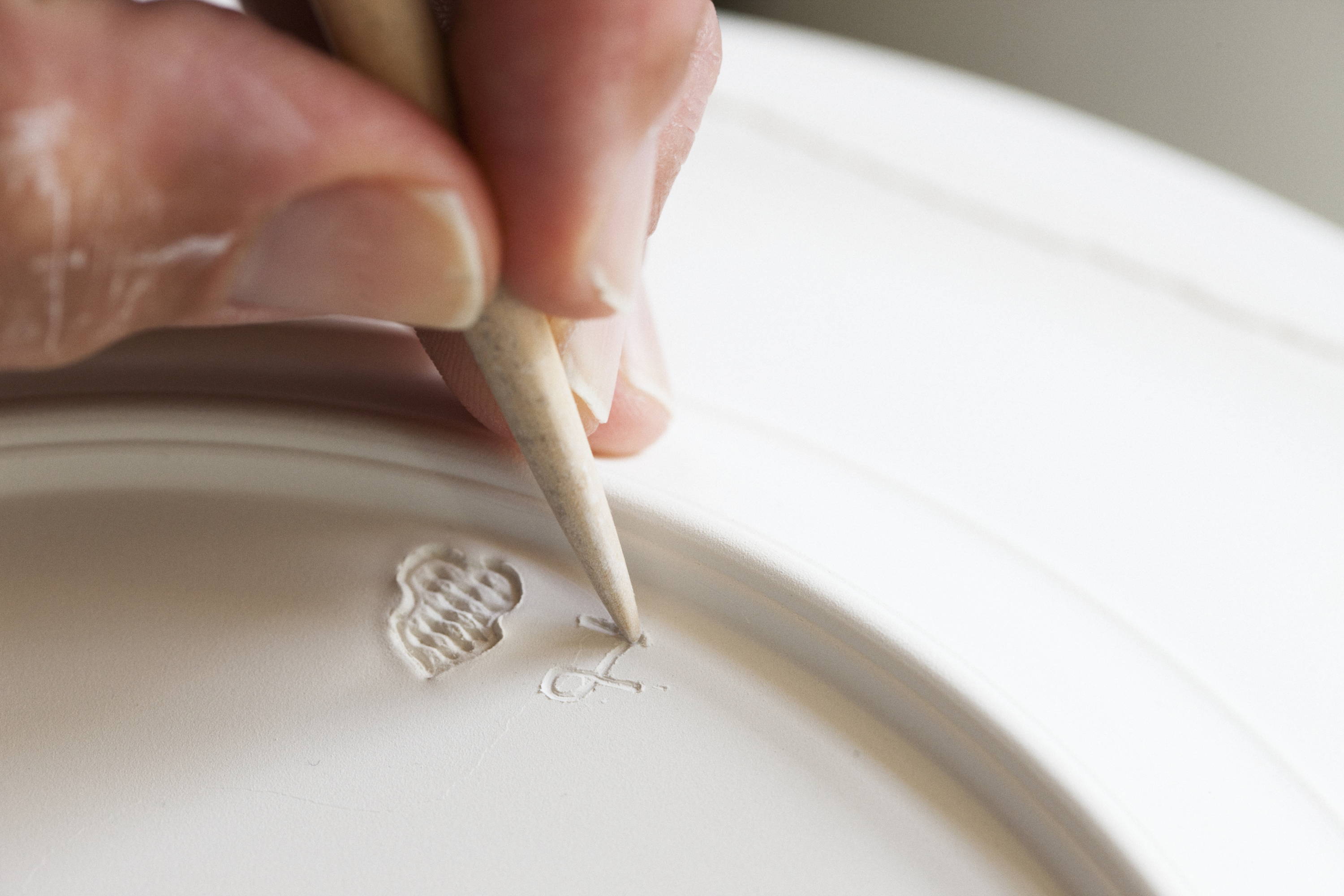 Another time-honoured and celebrated plate pattern from Nymphenburg is the Flowers of Life, which was created by Wolfgang von Wersin in 1932. In fact, over the decades his classic and strictly reduced lines have inspired other artists and designers to come up with contemporary innovations on his work, The oriental motifs of the stylized blossoms represent sensuality, wealth, and growth, and are executed from hand sketches by master craftspeople with painstaking individual brush strokes.
Lobmeyr offers some excellent traditional glassware choices, such as the Drinking Set No. 104, designed by Ludwig Lobmeyr himself in 1870. The aristocracy of the day admired this practical and solid set for its harmonious shapes. These can be individualized with cutting and engraving to add a stunningly unique personal touch to the original design. Another long-established and revered option is the Drinking Set No. 231 Barock. These were designed by Stefan Rath in 1905 and modelled on original Viennese baroque glass sets from the mid-18th century. Ever since 1935, they have been featured in Austrian embassies all over the world, which speaks to their and incredible class.
Bronzit Series B, Lobmeyr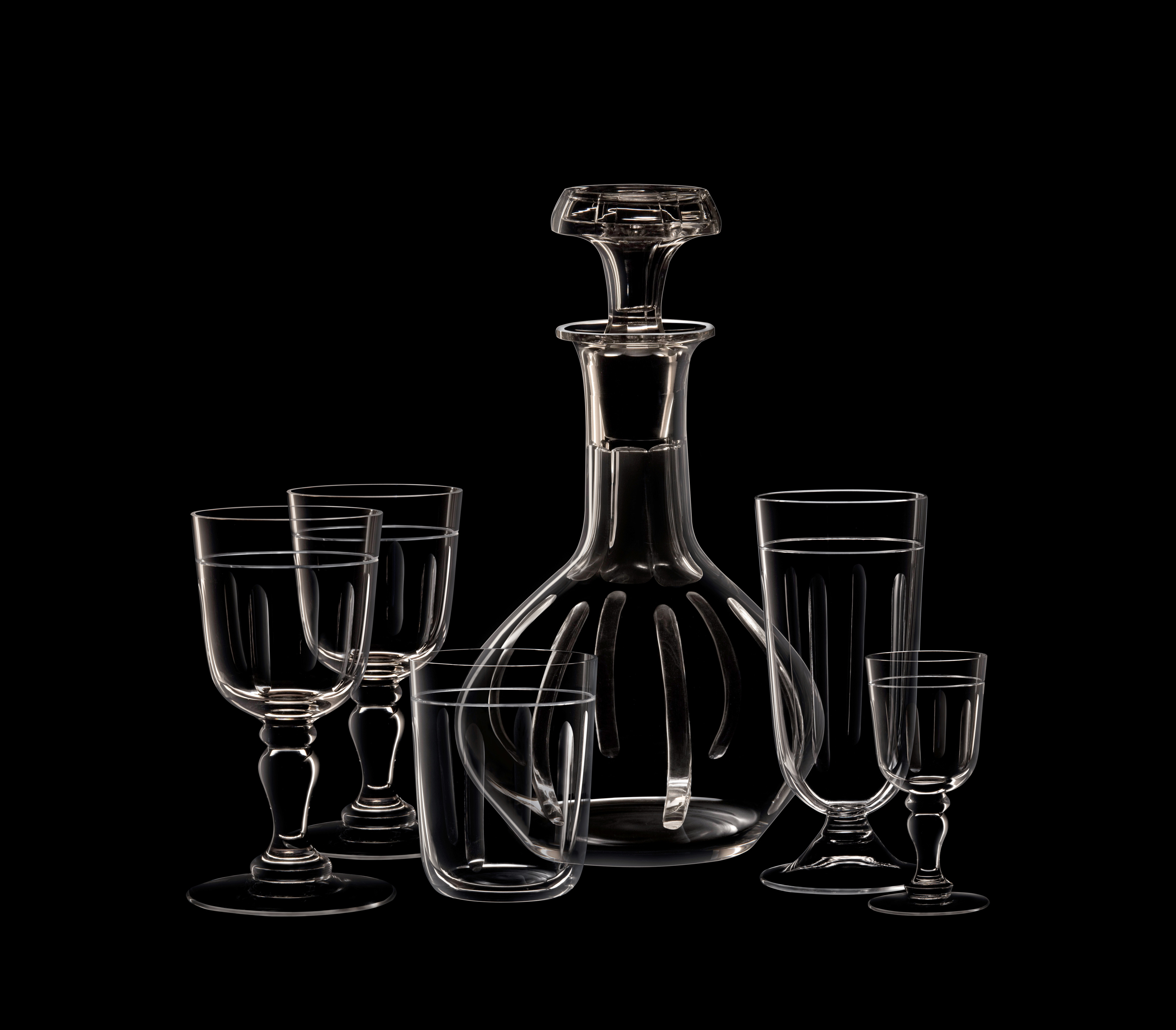 Drinking Set No. 104, Lobmeyr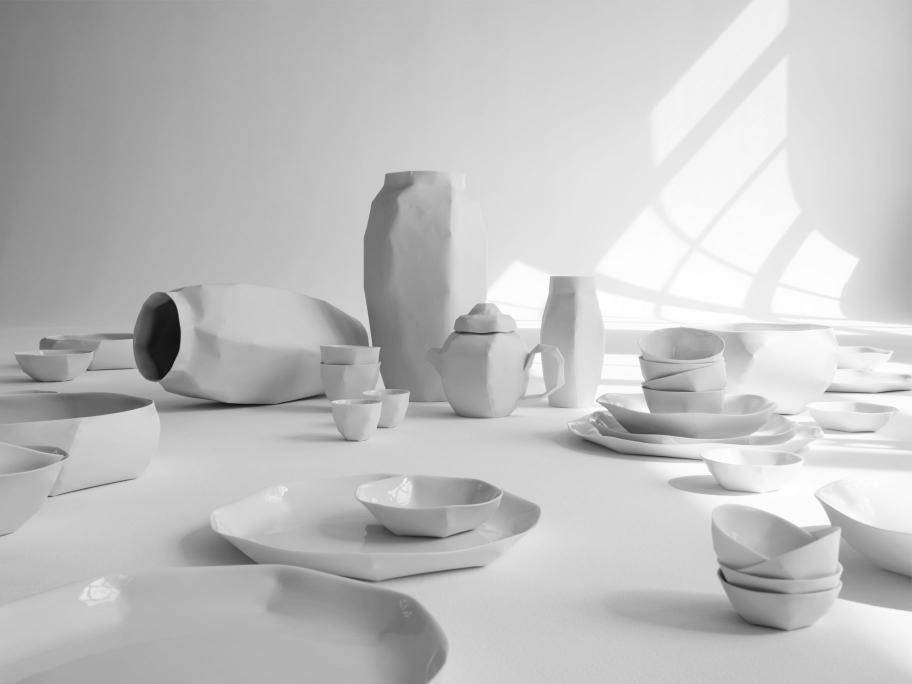 "

Having one of these crystal sets in the home to use after work or on the weekend makes the day-to-day experience feel remarkable

."
For those newlyweds who prefer a more modern aesthetic, a good starting place is one of the founders of modernism himself, Josef Hoffmann. Two of his original designs are still popular choices at Lobmeyr: the Series B and the Patrician Drinking Set No. 238. The Series B features a distinctive and sophisticated black enamel bronzit design that has become iconic of modernism and is displayed in museums around the world. The Patrician is striking for its elegantly balanced stemware and the flowing contours of its shapes. Having one of these crystal sets in the home to use after work or on the weekend makes the day-to-day experience feel remarkable.
In terms of dining sets, one of Nymphenburg's most intriguing innovations on porcelain design came from Argentinian-born Ruth Gurvich, whose edition Lightscape was based entirely on paper models. The lightness and delicacy of her design pushed the very limits of what can be created in porcelain, and the resultant pieces are formally open and showcase a variety of paper characteristics: folds, creases, and taut edges. These extraordinary pieces will continue to make any dining room feel exceptional and provocative for years on end.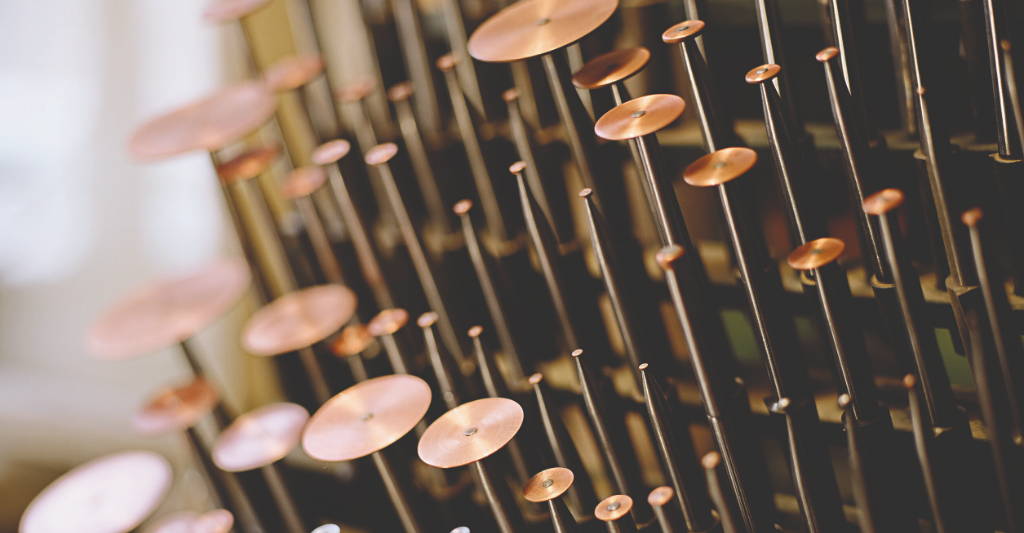 New York designer Ted Muehling is noteworthy for having collaborated with both Nymphenburg and Lobmeyr to create some stunningly original works. For glassware, Muehling "tried to go back in time, to pre-stemware when glasses were both sensible and poetic." Drawing on Roman and early European glass shapes, Muehling created the Drinking Set No. 279 Balloon, which blends beauty and utility with a witty modern flair.
At Nymphenburg, one of his most remarkable creations is the White Coral service, which expresses the structure and natural beauty of coral with sensuality, and delicacy, apparent on every plate. The fretwork and irregularly broken rims present the variegated facets of the natural material, resulting in a look that is elegant and sophisticated. This phenomenal service will continue to inspire curiosity and praise over a lifetime.
Creating something completely individual and unique are particularly important to couples today. They would do well to consider Muehling's Monogram series of plate decorations, which playfully traces each letter of the alphabet as the flightpath of a fly. These incredibly detailed pieces are one-of-a-kind, turned by hand in master workshops, hand-painted and even adorned with precious metals and stones. The monogrammed design can be easily customized to create something completely bespoke; various individual pieces and services can become incredibly individual items imbued with sentiment and meaning over time.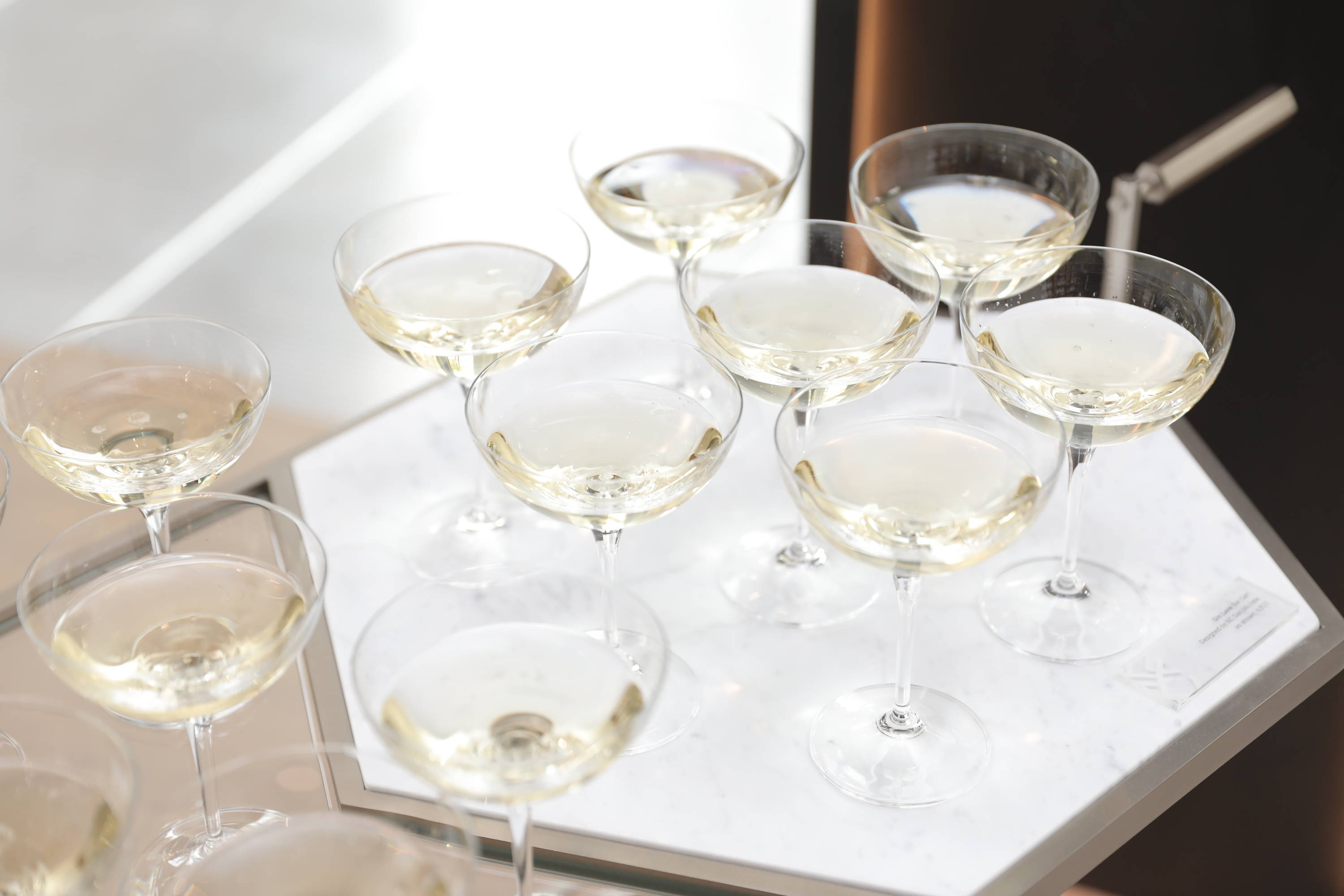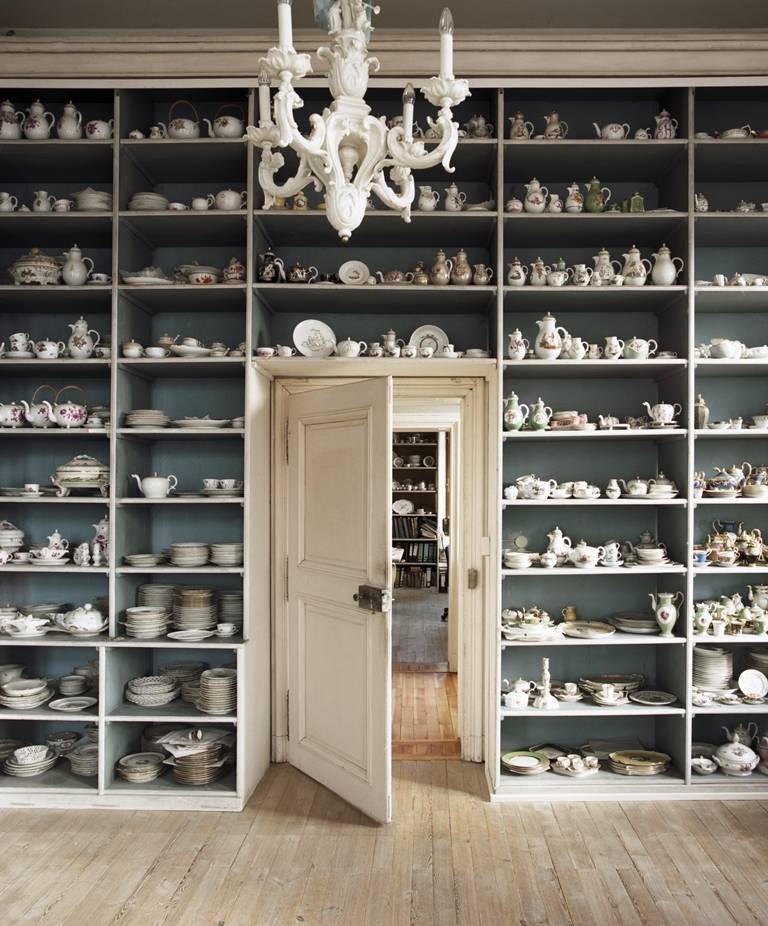 In fact, both of these long-established artisans have perfected programs through which a base pattern can be altered and ameliorated into distinctive and original pieces that will truly belong to one couple and one couple alone. They offer wedding consultants to assist with bespoke and personalized creations, such that there are truly an infinite number of variations. Just as each love story is remarkable, idiosyncratic, and unique, porcelain and crystal sets can be chosen with care to speak to a couple's history, commitment, and above all—their future.
---
Credits //
Photography c/o Ram Accoumeh, Lobmeyr Archive & Nymphenburg Archive
Words by Matthew J. Trafford