A design-led home office, fit for your home.
Finding ourselves in this unexpected time of change has led to the demand for adaptation. That means embracing new ways of working, communicating and creating—something that can be guided by design.
An essential step in building the ideal work-from-home set-up is thoughtfully selecting the right furniture for your space. USM combines functionality and flexibility with the aesthetics of a design icon, providing efficient and elegant workspaces for home, adaptable to any member of the household, even in a small space.
Founded in Switzerland in 1885, USM's origins are in metalworking, initially specializing in window fittings and ornamental hinges. The family-run business has maintained its legacy, never underestimating the power of adaption and flexibility. They are known today for their chrome tube and ball-joint construction, with which configurations are endless. Referred to as Haller, the Swiss design classic allows for full freedom in shape, size, and functionalities.
Creating an efficient working environment, especially from home, is key to maintaining productivity, comfort, organization, and a daily routine to look forward to. USM's modular philosophy is ingrained with the ability to adapt, and their practical Haller furniture can fulfill many purposes. Today, options also include integrated lighting, USB chargers for discreet connectivity, and wheel adaptions if you prefer to have your unit to be mobile.
For a small space that only occasionally doubles as a work area, the Haller secretary-type storage unit utilizes a drop-down door that opens to become a solid work surface.
Make the most of what vertical space you have available by customizing Haller shelving structures to fit the unique shape of your home.
For a large open concept area, a bigger Haller unit can add structure and divide the space
into smaller areas.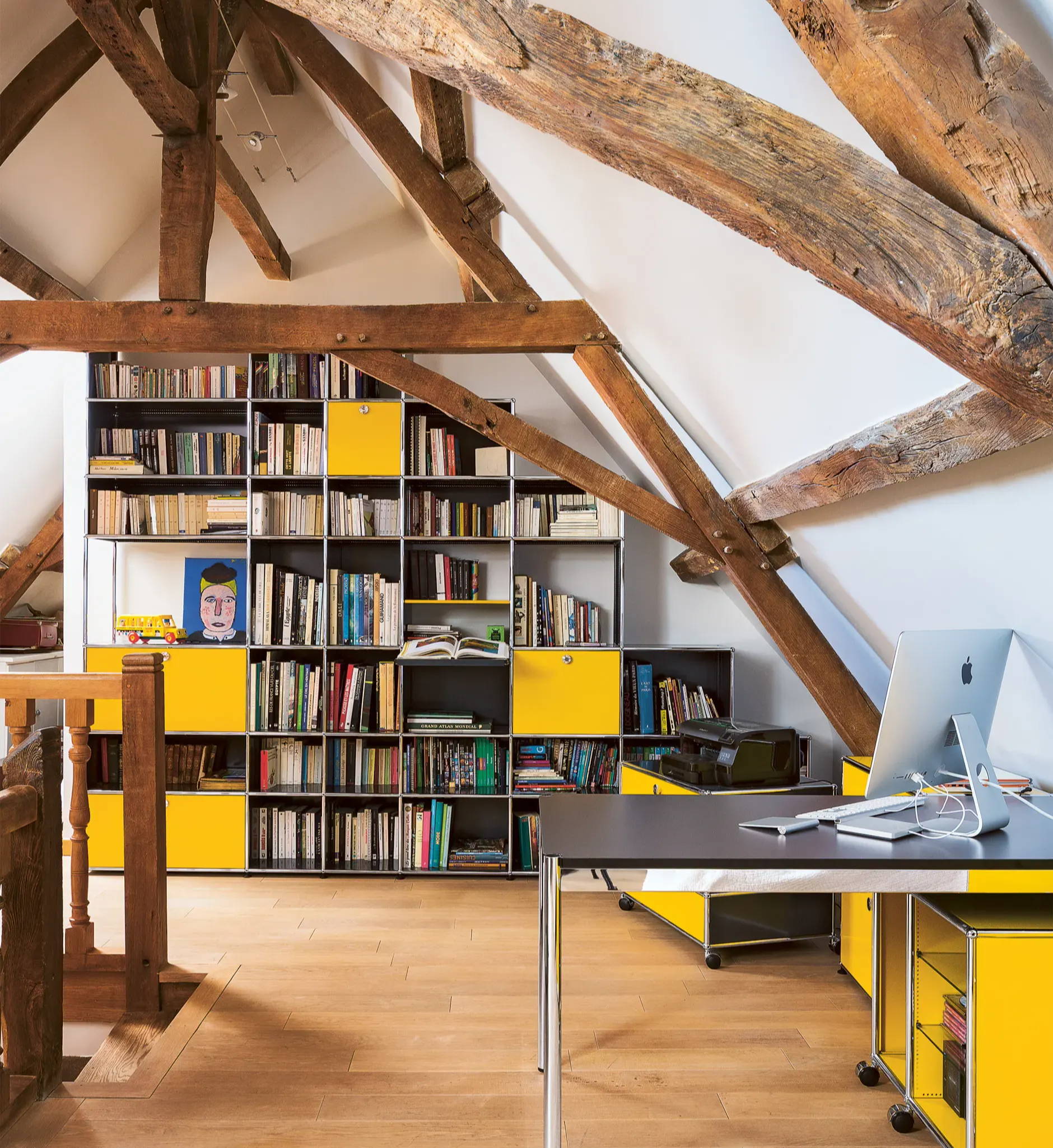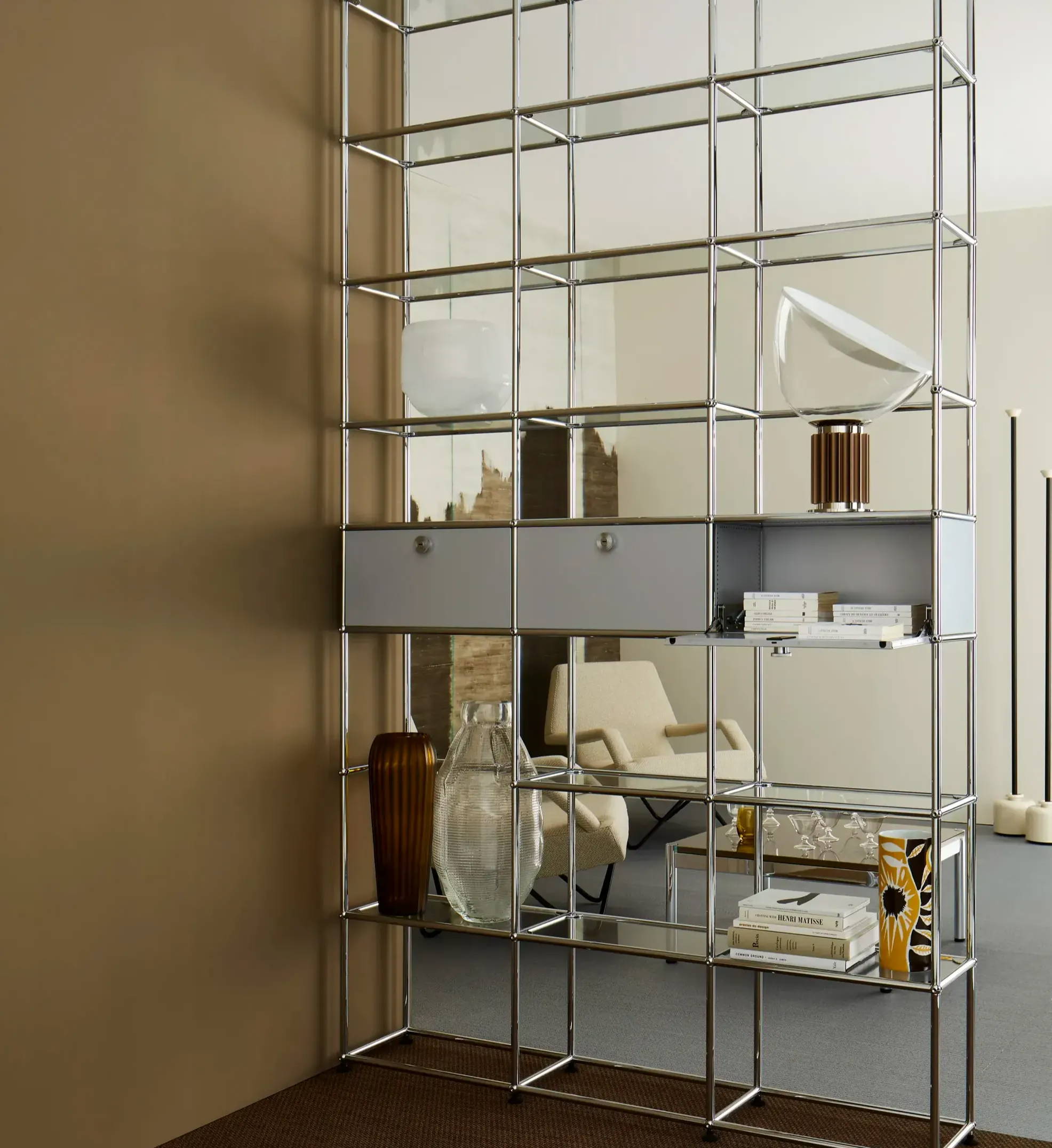 In addition to their storage units, USM also offers functional work desks—their convertible standing desk is a popular choice to fight all too common back and neck problems.
And for those whose shared work spaces are able to operate in-person, the furniture company offers a new addition available in the Haller system.
In keeping with their origins of specialized adaptation points, USM have produced slotted tubes meant for securing protective screens to their Haller units. Maintaining their sleek modular chrome tube and ball-joint signature, they offer a solution in protecting employees from mutual contact in a retail or office environment. A glass or acrylic screen needs simply to be slid into the tube slots, with the option of pass-through openings perfect for reception or retail areas.
USM also offers a "Quick Ship" program, a selection of signature Haller units available in 6 colours that can be shipped to your home or workplace in just several weeks-- contact us for more detailed lead times.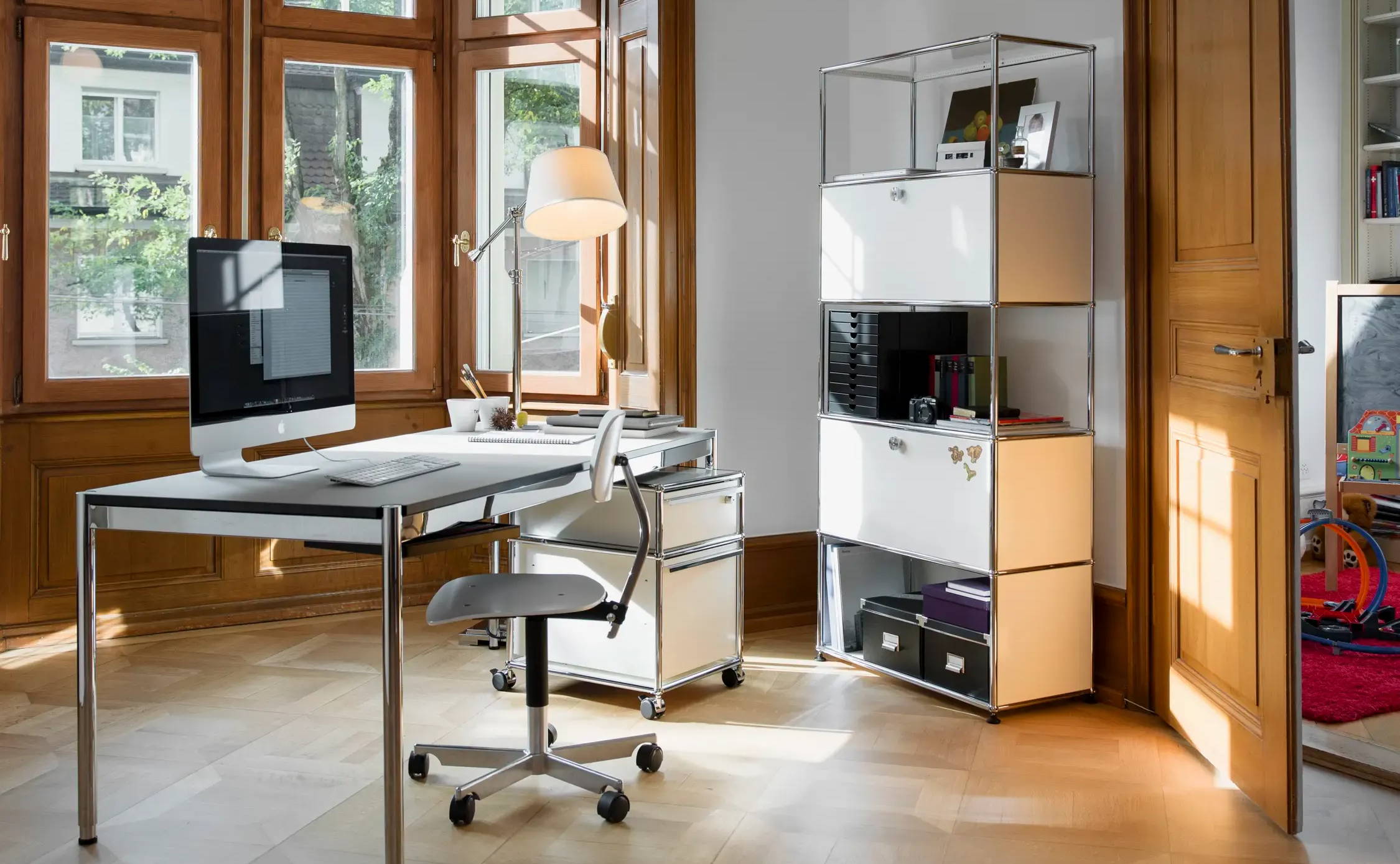 From bar carts to closets, USM offers beauty and functionality to all parts of your daily life. Contact arsales@avenue-road.com to learn more about how you can adapt Haller to fit you needs.